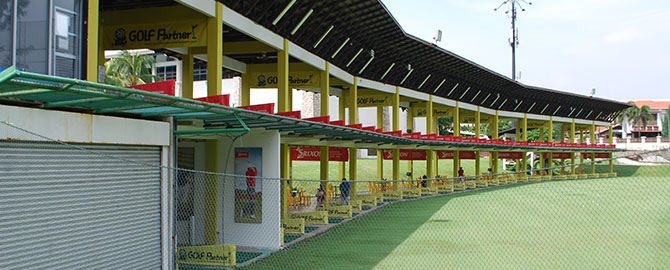 Kota Permai Golf & Country Club's Driving Range features a 60-bay, two-tier, all-weather driving range that allows golfers to practice their swing, correct their posture or simply share golfing tips with friends. All hitting bays are furnished with premium quality mats and golfers are provided with Srixon One Piece range balls.
A practice area which includes green for putting, chipping area and bunker is also available to complete the practice. There is also a fitting centre opened by renowned Master Clubmaker David Tang, who is armed with 30 years of experience and state-of-the-art equipment including a Flightscope for raw data and swing DNA. The fitting centre provides services for any re-gripping, re-shafting, customisation or general repair needs. Golfers may also test the golf clubs at the Golf Partners shop then purchase / trade in their used clubs.
The driving range is open for public, but offers special rates for KPGCC members. Food and beverage services are available for sit-in dining at the driving range.