1. NEW GOLF MEMBERS (Handicapping)
All new members must undergo a Handicapping test by the Handicapping Committee before they can be registered in the MGA National Handicapping System (NHS). Handicap tests will be carried out, on every 1st Wednesday of the month and reservations can be made through the Golf office.
2. MINIMUM 3 BALLS PER FLIGHT – WEEKDAYS MORNING
With effect from 1st April 2015 onwards, the number of players required for the Morning Session (7.30am – 9.15am) will be set at a minimum of 3 players.
3. REGISTER FOR CLUB TOURNAMENTS ONLINE
With effect from 1st February 2016, KPGCC members no longer need to walk in to register for tournaments at the Golf Counter; instead you can now do so online.
Online Tournament Registration Step By Step Guide
Step 1 – Log on to www.kotapermai.com.my and click on 'Online Booking'. Enter your correct User ID and Password.
Step 2 – Click on the "Tournament' tab.
Step 3 – Select the 'Tournament' you would like to participate in.
Step 4 – Click on the "Register' button to register.
Step 5 – Once the registration is complete, the status will now appear as "Registered'
4. SPORTS FACILITIES ONLINE BOOKING
We are pleased to announce that the Sports Facilities Online Booking via the Club website is available effective August 1st , 2018.
Sports Facilities Online Booking Step By Step Guide
Step 1 – Kindly key-in www.kotapermai.com.my to access the website.
Step 2 – Look for the "BOOK ONLINE" button on top of the right side of the screen and click it.
Step 3 – On the Online Booking page, kindly select :
○ First time using Online Golf Booking. (For activate your online booking access)
OR
○ Online Booking. (Once your online booking access is activated)
Step 4 – For "First time using Online Golf Booking", you need to key-in your full Membership No. to activate.
Step 5 – You will receive an email with the activation link to activate the online booking access.
Step 6 – Kindly create your new password once you have access the online booking system.
Step 7 – For New Facility booking, kindly click the "Click Here" and select the facility you want to book.
Step 8 – Once facility is selected, please select the Date, Resources and Time slot as below and click Next.
Step 9 – Kindly confirm the details including your email and contact number and click Next to make the booking.
Step 10 – Kindly tick on the Disclaimer Notice and Privacy Notice that you agreed on the Term & Condition and select Confirm.
Step 11 – Once booking is confirmed, you will receive an email notification regarding your booking detail which is successfully booked.
Should you need any assistance or information kindly contact our Sports Department at 03-51223700 ext. 150 or 153
5. #SayNoToPLASTIC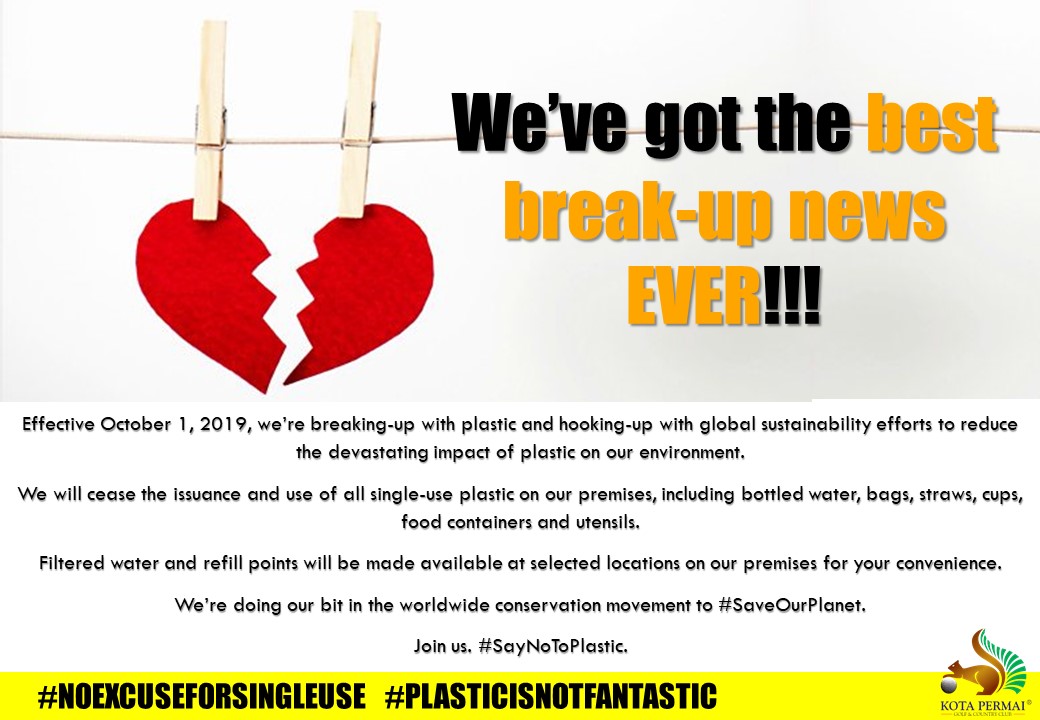 6. #COVID-19 Advisory! *As updated 7/10/2020
7. IMPORTANT ADVISORY – OCT 14-27 CMCO/SOP *As updated 13/10/2020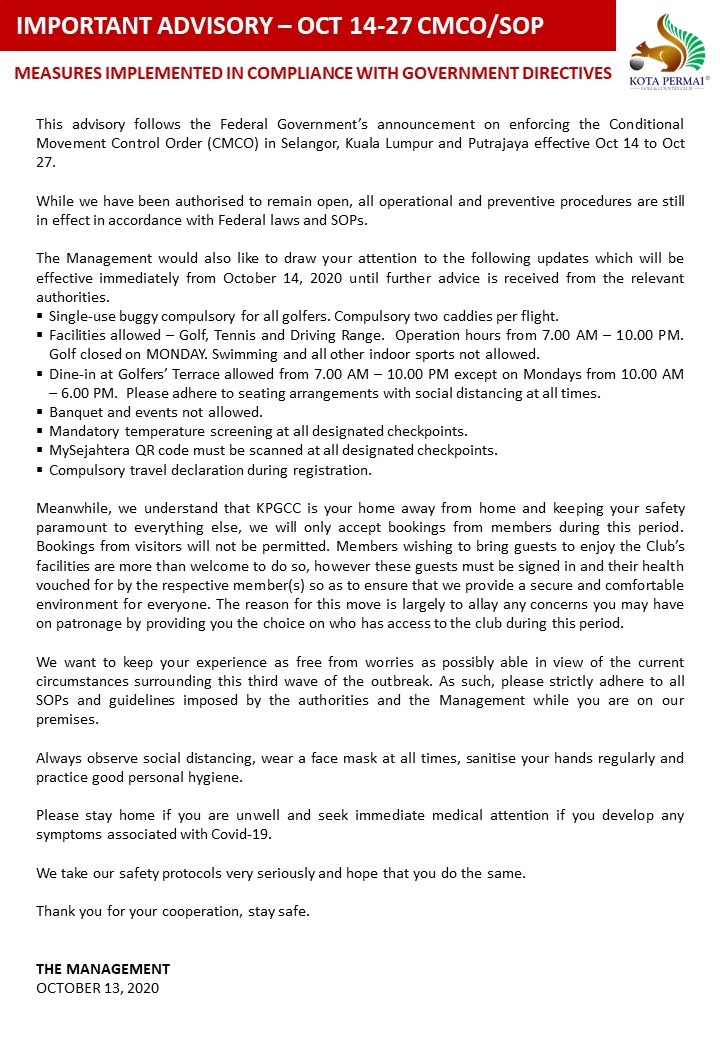 .